After requesting and receiving full disclosure, you should begin to prepare a trial brief. It should be a mirror in small of the overall trial plan: unified and coherent. Its organization should be simple, free of all irrelevancies, although the following materials are always relevant and should be there in an orderly arrangement:
a certified copy of the information;

an identification and analysis of each of the issues;

a list of witnesses with summaries of their evidence followed by their signed statements;

copies of all essential documents;

The applicable law, including, where appropriate, the law relating to questions of admissibility of evidence.
The trial brief should be intelligently tabbed and indexed for quick and easy access. It is the ultimate blueprint for your program of action.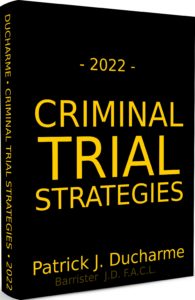 The above is the an excerpt of Criminal Trial Strategies, available at Amazon or in bulk through MedicaLegal Publishing.
Read or listen to the Preface and Introduction and subscribe to Patrick Ducharme's Youtube Channel.